You can cancel your subscription instantly using the subscription portal at any time, however, please note this only cancels future scheduled orders and does not affect any orders that have already been placed.
If you believe you have cancelled your subscription but have still received an order after doing so, there could be a number of reasons:
Cancelled too late
Subscription orders are normally processed every day at around 4 AM on the day they are due and this process happens automatically. If you cancelled your subscription on the same day that it was due, your order is likely to have already been processed and cannot be cancelled for logistical reasons. For more details please see: Can I cancel my order?
Once you have cancelled your subscription, you can verify if your future orders have been cancelled by checking the subscription schedule section of the subscription portal.
Multiple items on your account
If you had multiple subscription products within your account and no longer want to keep any of them, please note that you must cancel each item individually. Cancelling one item does not automatically cancel the others.
To check if you are still subscribed to any items in your account, please visit the subscription schedule section of the subscription portal.
Skipped / delayed subscriptions
If you chose to skip a subscription or delay it, this will only affect the specific order you have skipped or delayed and does not prevent future orders from taking place. The skip and delay features are intended if you want to take a break from your subscription (i.e. you're going on holiday) or you already have too much food and don't need your next order but wish to continue after that.
If you no longer want to receive any future orders, please follow these instructions: How do I cancel my subscription?
Confirming the cancellation / completing the process
When cancelling a subscription item, you will be asked to choose a reason for the cancellation before the process completes. After selecting a reason, you may also be given another option or asked for optional feedback.
Please note you must click "cancel my subscription" beneath the feedback box in order to complete the process and confirm the cancellation. If you don't click this, you the process won't be completed and your item won't be cancelled.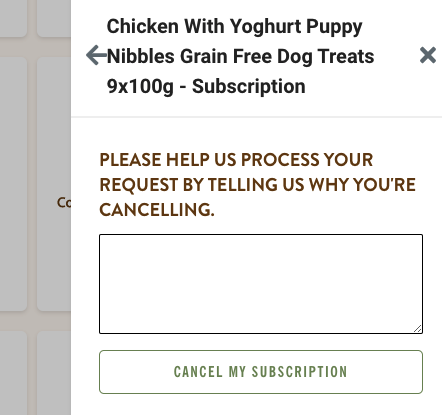 After completing the process, you will receive an automated email from us within a couple of minutes to confirm that your item has been cancelled. If you haven't received this email, please double-check your 'spam' or 'junk' email folder and check you have completed the full process. For full details please see our guide: How do I cancel my subscription?