Verify your payment information for Harringtons Pet Food (confirm your payment information to keep your subscription active)
Your bank can challenge billing attempts like subscriptions from time to time, which means you must manually confirm your payment method.
If you need to confirm your payment method for an order, we will send you an email with a link to confirm the payment. We won't be able to process your payment until your payment method is verified, which could delay your order being sent to you.
Unfortunately, this is out of our control and is a measure put in place by banks affecting all transactions online across all websites. It is unlikely you will have to do this every time you order from us, but this is ultimately determined by your bank.
The email subject will be "Verify your payment information for Harringtons Pet Food". An example of one of these emails can be seen below: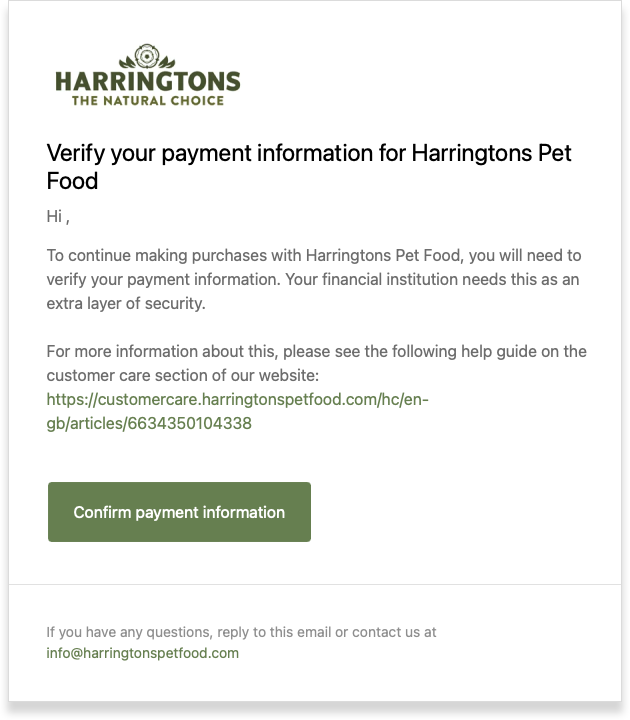 How do I know if the email I have received is genuine?
Firstly, we recommend making sure your browser and device are fully up to date because modern browsers include features to detect and block fraudulent web pages, and are less vulnerable to glitches that fraudsters rely on to fake/spoof websites.
After clicking the green button in the email, make sure that the website URL that you are visiting contains the official domain for the Harringtons website which is harringtonspetfood.com.

Make sure to look out for spelling mistakes or similar sounding domains such as "harringtonpetfood.com" (missing an 's' in harringtons), "haringtonspetfood.com" (only one 'r' in harington) or "harringtonspetfood.net" (a different domain ending .net instead of .com) - these are examples of domains which are not genuine or official.
If you are still unsure, contact a member of our team to verify the email you have received.