Q: Did you receive my message?
Our email form is one of the most reliable ways of contacting our team - providing as much data as you can allows our team to investigate your query, whilst you get on with your day!
You can expect to receive an initial response, taking the form of a confirmed ticket ID reference that's unique to you. Check your junk/ spam email folders if you fail to receive this confirmation. If you do not receive this, please make use of our Answerbot/ Live Chat at the bottom corner of our website to get through to us.
We politely ask not to submit more than one form of contact (email, call or SMS) about your query unless otherwise requested by our team, as this could hamper our response times - we want to be super speedy!
I got a ticket ID reference, but no response since
You'll receive suggestions from our Help Centre on your initial response, which may go towards answering your query. Did you select the 'Yes, close my request' after viewing one of our articles?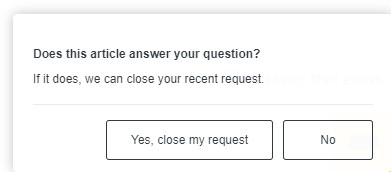 Doing so will automatically close your request so none of our agents will see it. If this was done in error and you still need our help, you can submit a new enquiry in the same way as before via our email form here.
Some enquiries can be answered using our Answerbot/ Live Chat; access this by selecting the yellow button appearing at the corner of our webpage or the monochrome icon at the bottom of our Help Centre. Operating hours are shown at the top of the chat window: