This guide is to help you when you are feeding your loved family dog.
Disclaimer: The information provided is based on the average weight of the breed regardless of the gender, having a low – moderate exercise regime i.e. 1 hour a day and having an average body condition. See more here.
Depending on dog activity and body condition or any other variables such as recovering from an operation, please allow a 10% swing in weight of food to be given.
If you have a puppy of this breed that is age 8 weeks or older, follow the same feeding guidelines below as you should feed based on the expected adult weight rather than the puppy's current weight. For puppies below 8 weeks, please contact us for advice.
Staffordshire Bull Terrier - Average Weight 13kg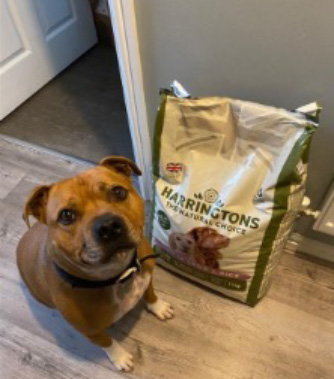 Dry Food only = 200g once/twice daily
Wet Food only = 705g once/twice daily
Dry & Wet mix = 140g dry with 200g wet once/twice daily